ABOUT US
Valley Manor Inc. opened in May of 1978 and the primary purpose is to provide comfortable and congenial care in a Christian environment. Within that environment we will endeavor to meet the resident's individual physical, emotional, social and spiritual needs, in a manner that recognizes the dignity and worth of each person and their quality of life.
STRATEGIC PLAN - MISSION, VISION & VALUES / COMMUNICATIONS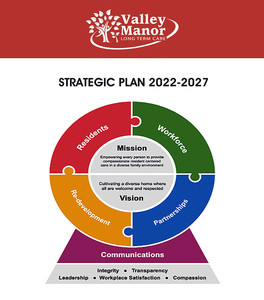 MISSION
Empowering every person to provide compassionate resident centered care in a diverse family environment.
VISION
Cultivating a diverse home where all are welcome and respected.
VALUES / COMMUNICATIONS
We will conduct our important work with:
● Integrity
● Transparency
● Leadership
● Workplace Satisfaction & Compassion
...Learn more
ACCESSIBILITY
Purpose
Under the Accessibility for Ontarians with Disabilities Act (AODA), 2005, Valley Manor Inc. must meet the requirements of accessibility standards established by regulation. This policy establishes the accessibility standards for customer service for the organization, in accordance with Ontario Regulation 429/07. This policy applies to all employees of the organization, Board of Directors, volunteers, agents, and contracted service provider staff.
...Learn more
CQI TEAM
Continuous Quality Improvement - CQI
A set of activities that are carried out to set standards used to monitor and improve performance so that the care and services provided will satisfy stated or implied needs. These processes don't "assure" quality; they are tools used to assist with the management of quality.
The CQI Team -
The CQI team at Valley Manor provides the framework for the development and implementation of our integrated Quality Management system.
...Learn more