COVID19 INFORMATION
MEDIA RELEASE - COVID-19 - FEB. 17, 2021
Posted: February 18th 2021
Feb. 17, 2021 - The one positive Covid-19 case that was identified through weekly surveillance testing onFriday, February 12, presents a low risk to the residents, staff and the community.
No transmissions have occurred from this isolated result.
The staff member is feeling well and continues to be in isolation as per the Renfrew County and District Health Unit (RCDHU), direction. Outbreak precautions have been diligently followed. Infection prevention and Control and Personal protective Equipment continues to be used appropriately and Valley Manor continues surveillance testing on all staff.
In collaboration with the Renfrew County and District Health Unit (RCDHU), Valley Manor is very confident that once the 14 day outbreak period is complete, the outbreak will be declared over and everything will be back to normal for residents and staff.
This will not delay the upcoming second dose of vaccinations for the residents.
Valley Manor's CEO Trisha DesLaurier stated that while Valley Manor continues to keep the community informed, each and every one of us have an obligation to maintain the strictest of confidentiality for our staff and residents.
Thank you to the staff and community for their understanding during this time.
...Learn more
VISITING LOVED ONES
Posted: June 17th 2020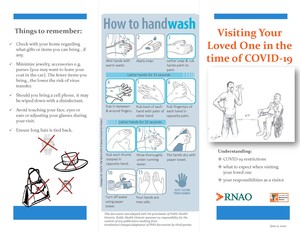 To arrange, Facetime or Skype virtual visits, please call our Activities Department at 613-756-2643, Ext. 225 to schedule
Please review the brochures attached outlining guidelines and information about the visits.
...Learn more